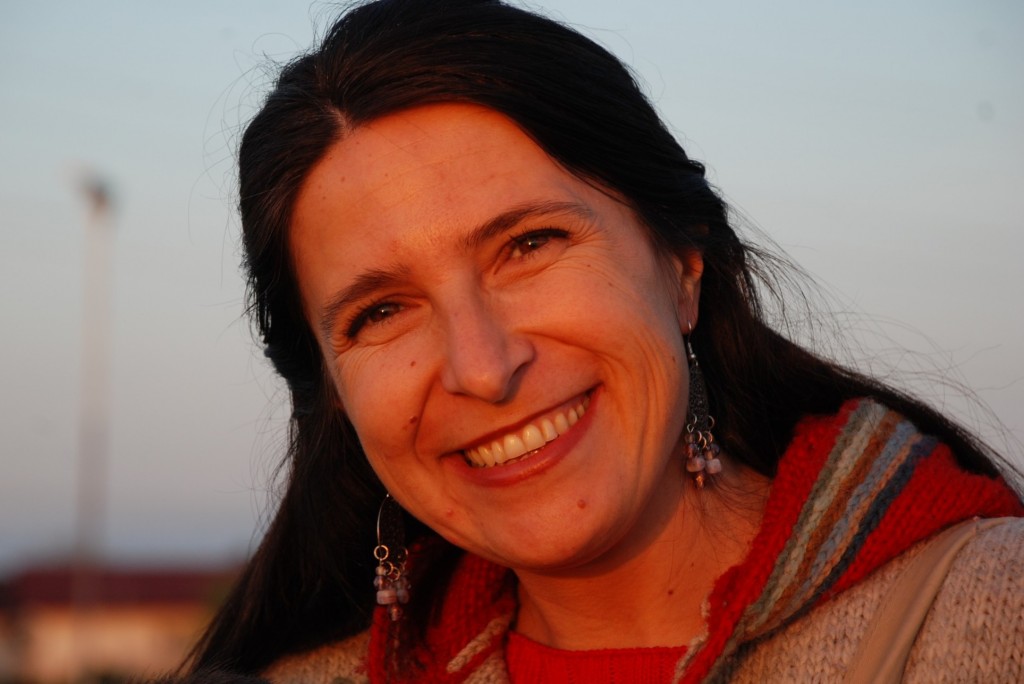 Romana Ercegovic, Ph.D in dramaturgy, is an independent artist of sacred (ritual) theatre and researcher from Slovenia, a playwright, actress, theater director, lecturer, storyteller, poet, actress in puppet-theater for children and a mother. As a creator of a new way of theatre, which she calls "sacred theatre in a feminine way", Romana has written, directed and performed several original solo performances (A Prayer to the Earth, Electra, White Buffalo Woman, Mary Magdalene, and Persephone), which, along with her lectures and workshops, have been presented in Slovenia, USA (Massachusetts, California, Arizona), Russia, Italy and Serbia…
Romana chose an independent artistic path and follows her vision of theatre, which awakens perception of beauty, magic and sacredness of living as well as feeling of warm connectedness to our-selves, other people and nature.
EDUCATION
PhD in Dramaturgy, Academy for Theater, Radio, Film and Television, University of Ljubljana
Master of Arts, Lesley University, Cambridge, MA, USA – Independent Study Program
Bachelor of Dramaturgy, Academy for Theater, Radio, Film and Television, University of Ljubljana
DREAMS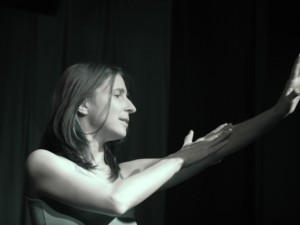 »My dream… creating a theater, where by revealing our vulnerability the light is being born, theater as a safe sacred space where we are free to feel deep inside, to embody the subtle, pure, authentic essence of who we are, the invisible depths of vastness of human soul."
INSPIRATION FROM THE ANCIENT WISDOM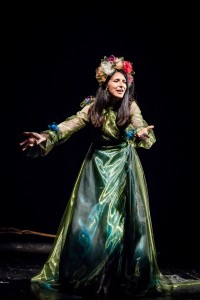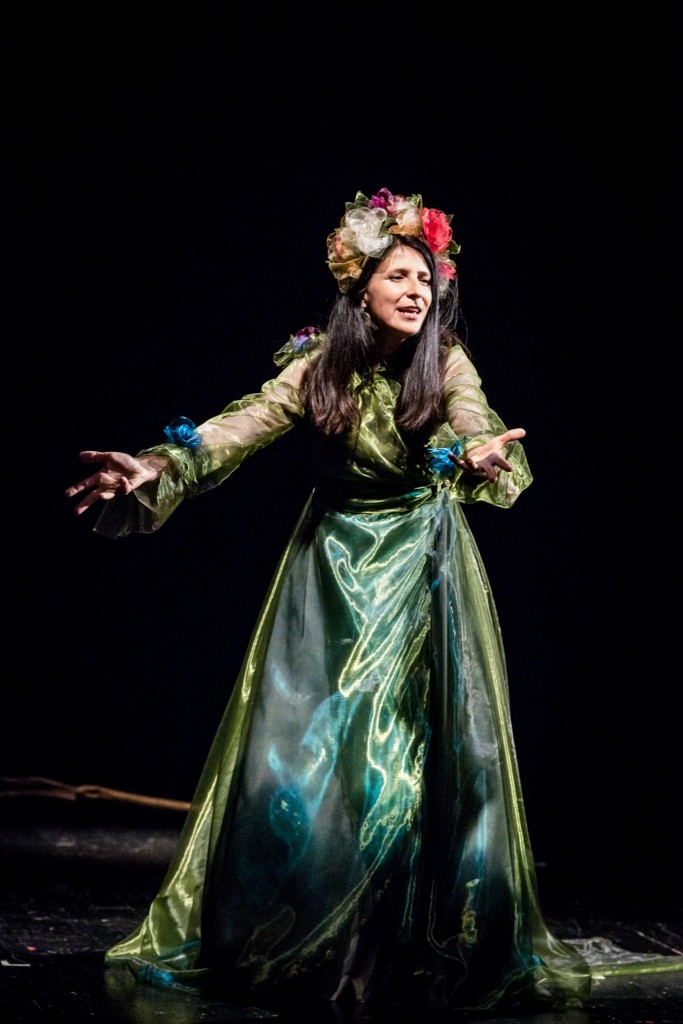 As a student of dramaturgy at Theatre Academy in Ljubljana, she soon realized that theater art has lost its original purpose. So she devoted last 15 years to profound research of the ancient understandings of art, the rituals of different indigenous cultures, the contemporary practices of ritual theater – with the intention of developing a new approach to theater. She realized that the basics of the ancient approach to the original ritual forms of theater was the direct connection to the divine realms, pure joy and beauty within us and in the natural world, which can be accessible to us also today, in contemporary society and art, by expanding the consciousness and nourishing the connection with our own uniquely intuitive vision. During years she has been practising different ways of connecting to this inner knowingness, applying the intuitive method of creative process in her creations.
PASSION FOR BALANCING FEMININE AND MASCULINE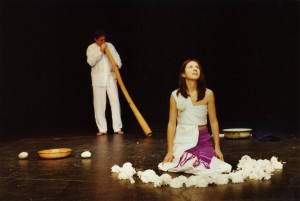 One of the focal points of her work, both artistic and theoretical, is to bring new meaning to the ancient stories of women, stories that have been (mis)presented to us through patriarchal interpretation. With a new and healing perspective, a respectful and loving one, her performances inspire, bring beauty, joy, encouragement and recognition to the forgotten wisdom, and to the repressed feminine that lies both in women and men.
For that reason she has been particularly devoted to researching female spirituality and the role of women throughout the history of various ancient cultures. She explores the artistic possibilities of healing the wounds of the female psyche through archetypes in order to find a new balance between our inner feminine and masculine and also within the society.
EXPERIENCE OF DIVINITY AS A PURPOSE OF ANCIENT FORMS OF THEATER
At her master degree study at Lesley University in Cambridge, MA, USA, she theoretically developed her vision of theatre art and explained it in the thesis Ritual Theatre in a Feminine Way: Ritual Theatre as a Tool for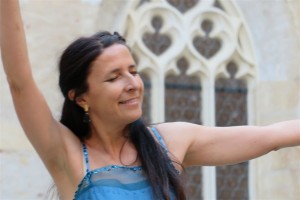 Re-Awakening the Sacred Perception. In her latest theoretical research, her doctoral thesis The Contemporary Ritual Theatre: The Greek Mysteries and their Influence on Revitalization of Rituality in the Theatre of the 20th and 21st Century she provides evidence that the ritual (cultic) theatre of ancient Greece played much more important role in the history of European theatre then it has been attributed to date and that woman's role in it was much bigger then has been generally known. This work demonstrates that ritual revitalization phenomenon which occurred in European theatre in the beginning of the 20th century, is directly connected to the heritage of European archaic Neolithic culture, the so-called religion of the Goddess which has been preserved in the form of Greek mysteries, particularly those within the cult of goddess Demeter, as it is the case of Eleusinian mysteries.
ROMANA'S POETRY
FEW OPINIONS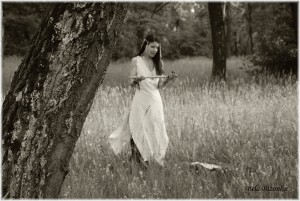 »Ercegovic's one-woman performances are feast for the intellect as well for the soul.« Morwen Two Feathers, Concord Journal, Concord, Massachusetts
"The ritual theatre of Romana Ercegovic is indeed ritual in its original meaning: it takes us far away from too numerous modern social and personal constructions to primary world of nature and human heart. We tremble in confrontation with ancient messages of honoring of all living beings and authentic love beyond any cultural stereotypes. Modern humans, caught into chaos of superficial media, miss that kind of wisdom. Romana's performances are one of those beautiful events, which give us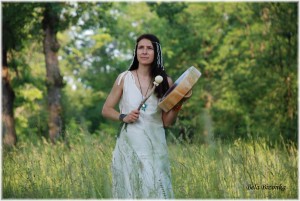 strength and hope that after all, we can bring feminine and masculine perspectives of the world in balance."
Andrej Detela, Ph.D., writer, philosopher and inventor
SELECTED REFERENCES:
Solo Theatre Performances (as Author, Director and Performer), place of premiere and selected presentations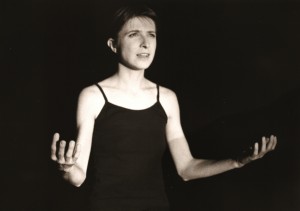 2000  Prayer to the Earth – City Theater Ptuj; National Theater Maribor, Slovenia; Rites of Spring Festival, Williamsburg MA, 2001; Moscow, Russia, 2002.
2001 Electra (2001) – City Theater Ptuj; Moscow, Russia
2003 White Buffalo Woman – National Park Sturmovec; Emerson Umbrella Theater. Concord, MA, 2004; International Summer School on European Prehistory, Serri, Sardinia
2007 Mary Magdalene – Stara Steklarska Ptuj; National Theater Maribor; Glej Theater, Ljubljana
2016 Persephone, a Story of Self Love – City Theater Ptuj, Cankarjev dom Ljubljana
Selected Group Theater Performances (as Dramatist, Director or Co-director and Performer)
1997  Tkanje, žamet in samota, Puppet Theater in Ljubljana; Festival Unidram, Postdam, Germany; Primorski Festival, Slovenia
1997 Koga še zanimajo princi, Dijaški dom Bežigrad, Ljubljana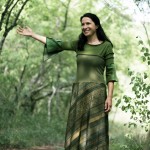 1999 Glas Zemlje, IDRIART, The Institute for Intercultural Relations through the Arts, Borl Castle, Slovenia
2000 Marušinih pet minut, Stara Steklarska, Ptuj
2000  Romanje k Mali vodi, Performans Studio Koper, Boršt Koper
2015 Potovanje k Persefoni, Ritual Theater Soul of the Earth, Boršt Koper, Slovenia
2017 Nežne so tvoje roke, Milost, Ritual Theater Soul of the Earth, Ptuj
2017 To be or not to be… Human, The Royal Shaumbra Theater, Munich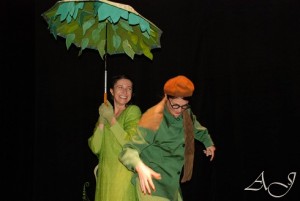 Theater Performances for Childeren (as Playwright, Actor, Author of the Songs and Co-director)
2008  Travnik čarobne lepote – City Theater Ptuj
2013  Vedno te ima nekdo rad – City Theater Ptuj
Original Plays/Dramatizations (as Playwright)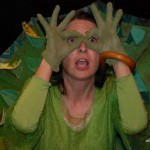 2001  Pingvin Cofek – Slovene National Theater Nova Gorica
2003  Marušinih pet minut – Slovenian National Radio
2007  Maček Muri (dramatization) –Theater Celje
2014  Sneguljčica (dramatization of Cinderela) –Theater Celje
2016 Luna (dramatization) – City Theater Ptuj and Theater Lalanit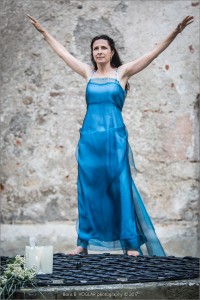 International Conference Presentations/Lectures/Workshops
2002  Presentation, On Empowerment; Native Women & Men Wellness Conference, San Diego, CA (organization by University of Oklahoma)
2010  Presentation and publication, The Profound Meaning of Culture: Research on Basic Principles of Holistic and Multidimensional View of Cultural Expression in Ancient Times, Today and in the Future, International Conference Philological Research Today, University of Belgrade, Serbia
2011 Presentation and publication, Language of Dignity: Sacred Balance Between Feminine and Masculine, International Valcamonica Symposium, Capo di Ponte, Italy
2011 Lecture, Symbolism in the Sacred Pipe Ceremony of the Lakota Tradition, International Summer School on European Prehistory, Serri, Sardinia-Italy
2014 Lecture, Balance between Feminine and Masculine in Arts of Ancient Cultures, organization by Rdeči Šotor (Red Tent), Ljubljana
2015 Lecture/Workshops, "The Ritual Theater", International Festival Fico Dance Journey, Slovenia/Croatia
2016  International Workshops »Theater Art as a Sacred Experience of Self and of Nature«, Istra, Slovenia; "Wise Woman Archetype" Istra, Slovenia; "Becoming a Queen of My Life- Owning My Wisdom" Bled, Slovenija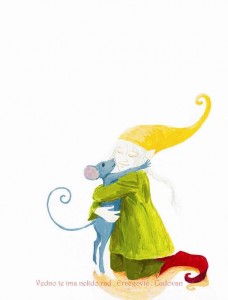 Published books and CD
Molitev Zemlji, book of poetry and audio CD, Slovene language, self-published, 2000, Slovenia
Vedno te ima nekdo rad, a picture book for children and adults with illustrations by Simona Čudovan, published by Društvo za poglobljeno umetnost, 2014, Slovenia.
Du er Altid Elsket, Erik Istrup Publishing, 2018, Denmark (Danish version of You are Deeply Loved)
Obredno gledališče: Od misterijev matriarhalne Evrope do obujanja svetosti v gledališču našega časa (Sacred Theater: From the mysteries of matriarchal Europe to the awakening of sacredness in the theater of our time), published by Slovenian Theatre Institute, 2017, Ljubljana.
Tolmuni nežnosti (poetry book, 2019, Chiara)
Awards/Grants
1996 Preseren's Studen't Award (Prešernova študentska nagrada)
2003 Ministry for Culture of Slovenia, Fellowship
2008 Zlata Pika, group Award for the best theater performance on Pikin Festival (for performance Maček Muri, production of Theater Celje)
2016 Zlata Pika, group Award for the best theater performance on Pikin Festival (for performance Sneguljčica, production of Theater Celje)