This in not a story about a woman.
This is a woman.
Who is longing for the beauty of life,
the wisdom and the freedom.
Who is searching for her holiness,
for suppressed heart desire and passion of her body.
A woman, who is revealing her vulnerability and her power,
her light and her darkness,
her roots and her dreams.
And courage to live the life she is longing for.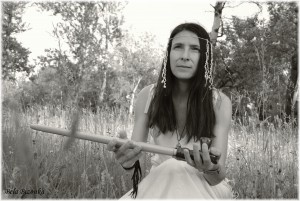 This is not a love-story.
This is love.
Which embraces everything and everyone.
Her name is White Buffalo Woman.
And her name is also Dark Goddess.
Both.
Because birth and death compose the cycle of life.
Because light and darkness are parts of one great love,
which is everywhere,
in all things,
in all people,
and is all that is.
WHITE BUFFALO WOMAN
(inspired by the Native American legend of White Buffalo Woman)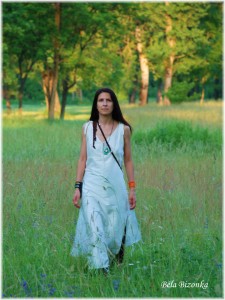 Written, directed and performed by Romana Ercegovic
Outdoor performance
Premiere:16th of August 2003, in national park Sturmovci near Ptuj.
Premiere in English: 9th of July 2004, Concord, MA (USA)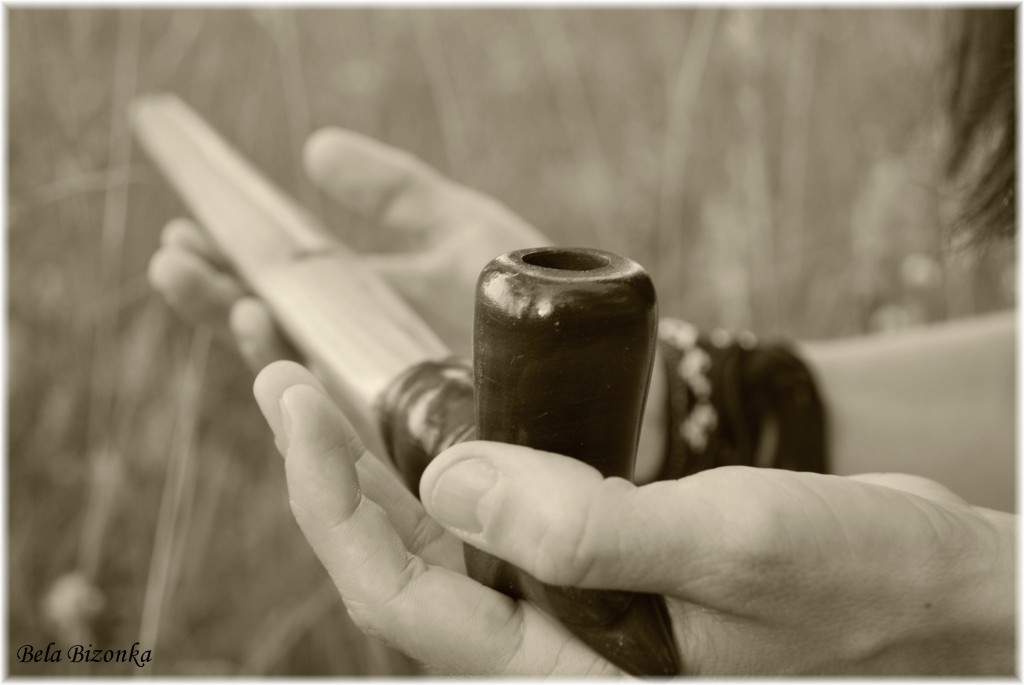 A ritual theatre performance White Buffalo Woman was inspired by one of the most important Native American legends. According to the tradition, White Buffalo Woman came to the Lakota tribe and led the people to the path of beauty. She taught them how to live in harmony with nature, brought them sacred ceremonies (among them also Sarced Pipe Ceremony) and promised she would come again upon the difficult times for the humanity. Then she was to come to remind the people of all nations to the wisdom of the heart and to the responsibility we hold for creating harmony upon the Earth.
Romana Ercegovic in her scenario connects the ancient legend to the contemporary human being's longing for sacredness. The story begins when a woman hears the legend of White Buffalo Woman. In her heart it awakens the buried desire to find her own sacred path: to the nature, to the ancient wisdom of her ancestors, to her inner light. She doesn't know yet she will first have to meet the Dark Goddess, who is known in different mythologies of the world under different names, such as Kali in India, Black Madonna in Europe, Black Dakini in Tibet…. The goddess tells the woman that she "can't find the light of her soul if she doesn't have the courage to look into the darkness as well." The woman agrees to go inside, to enter the unknown…
Some of impressions:
"This is a beautiful work. It is wonderful to see what you have been sharing with people – it is very powerful and special. On this Thanksgiving Day, I am thankful for you and for what you have been offering through your ritual theatre performance."
Brooke Medicine Eagle, Montana, November 2004
"I just finished the White Buffalo Woman description and script. Just stunning. I felt so much while reading both. I'm so deeply touched. I could feel my little girl inside, feel her pain and feel her light up as she heard the truth. Light up in the darkness so to speak. I saw so many images while I was reading as well. There's such clarity in your script. It's so clear, and bold and brave."
Jennifer McKenna, New York
"The Lakota of the American West tell the legend of the White Buffalo Woman, who came to their people and taught them wisdom. Does White Buffalo Woman have anything to say to modern people of our time and space? From the perspective of a modern white woman, Romana Ercegovic, offers an interpretation of White Buffalo Woman's lesson about living in harmony with nature. Romana's story telling is a feast for intellect as well as the soul. She has performed this play and others in Slovenia and Russia."
Morwen Two Feathers, The Concord Journal, ( in July 2004, when the performance was presented in Concord, MA)
"Romana Ercegovic has gotten round a stereotype of theatre picture and pored into the mysteries of life, natural world, human being… Her artistic expression ladles out of spirituality of forgotten wisdom, reveals the truth of the roots deep in human soul."
Mojca Vocko, Aura, April 2001
"White Buffalo Woman is a beautiful performance. It impressed me, touched me deeply. In Romana's storytelling one can feel the pure love – for nature, for human being. All her performances have a deep message, they touch and open the heart. They are simple and pure. They encourage us to make our dreams a reality. The White Buffalo Woman is my favorite, I listened to it three times, but I love them all."
Jurij Jelovsek, October 2003
"I've came to see your performance White Buffalo Woman for a second time and I loved it. It is always a healing touch for me, it touches me where I need it. I deepy thankful for what you are doing. I am so thankful there is someone in Slovenia, who in that way reminds us of the wisdom and beauty of a woman and of the Earth."
Darinka Girandon, July 2004
"The ritual theatre of Romana Ercegovic is indeed ritual in its original meaning: it takes us far away from too numerous modern social and personal constructions to primary world of nature and human heart. We tremble in confrontation with ancient messages of honoring of all living beings and authentic love beyond any cultural stereotypes. Modern humans, caught into chaos of superficial media, miss that kind of messages."
Andrej Detela, January 2008
"Sacred theatre performance of my dear friend Romana Ercegović brought back the pure sacredness of life. Mother Nature and White Buffalo Woman are grateful to You."
Andreja Cepuš, October 2017